The Challenge
- Home
- The story
- About asthma
- The Dream
- Asthma Programs
- About WBB
The World Tour
- The Route
- The Eber Family
- The Equipment
- Latest News
Your Pages
- Teachers
Our Sponsors
- Individual
- Corporate
Contact Us



Cleaning Equipment and Storage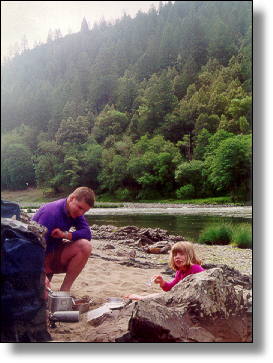 The key to cleaning equipment on a bicycle trip is simplicity and rapidity of drying. Nothing is worse than hauling a heavy, soggy, moldy towel on the back of your bicycle that can't dry because it's been raining for days. We also don't believe in lots of different cleaning products: we use biodegradable liquid soap (or in a pinch--dish liquid) for everything-clothes washing, dishes, shampooing. As for storage, our rule is everything needs to stay dry--so all of our equipment, food and clothing is protected by plastic bags. We can never have enough of them.

While water filtration systems have become popular in the past few years, we find them frustrating--they are heavy, bulky and generally awkward to use (who wants to sit at a stream filtering for hours?). Over the past fifteen years of outdoor adventures in Africa, Alaska and Europe our family has always boiled our water and/or used iodine without ever becoming ill. However, while iodine will probably continue to be our major water purification system, we are considering taking along a new compact type of filtration system that screws into the top of a bicycle water bottle and works instantly without hours of pumping. We'll let you know if we do, and what we think of its performance on the road.

1 sponge
1 pot scrubber
Lightweight wipes (we love these; they are sold everywhere--even in North Africa--and weigh nothing, dry rapidly and can be thrown out when disgusting)
4 lightweight backpacking towels
All purpose outdoor biodegradable soap
Netting bag for drying and carrying dishes
Iodine and neutralizer ( the neutralizer is worth every ounce--otherwise the water tastes terrible. In a pinch we use vitamin C tablets)
1 large plastic water carrier
6-8 cycling water bottles
20 heavy weight garbage bags (these can be used for trash, but more importantly, we use them for protecting our gear from rain and the elements; all of our panniers and stuff sacks are lined first with garbage bags and then covered again with garbage bags on the outside if it starts to rain)
50 or more zip lock bags (we use them for everything--storing food, storing toiletries and cleaning equipment, and even storing wet and dirty clothes and to separate out underwear--one bag per person)
Updated: Nov 23, 2001
Thanks to our sponsors!


Our Mission: World Bike for Breath is a nonprofit corporation raising AWARENESS and MONEY for asthma.
©2004 World Bike for Breath, 12106 Heron St, Bainbridge Island, WA 98110 Tel. 206.842.6706 Email BikeForBreath@hotmail.com