The Challenge
- Home
- The story
- About asthma
- The Dream
- Asthma Programs
- About WBB
The World Tour
- The Route
- The Eber Family
- The Equipment
- Latest News
Your Pages
- Teachers
Our Sponsors
- Individual
- Corporate
Contact Us



The Eber Family
Quick Facts About the Ebers

Four family members
Lorenz -- Born in Germany (1963), came to US in 1980. Has Masters in Aeronautical Engineering.
Paula -- Born in Canada (1958), came to US in 1968. Has PhD in Anthropology. Has had severe asthma since age 2.
Anya -- Born 1990 in Illinois, moved to Washington State when six months old
Yvonne -- Born in 1992 in Washington State
Jens -- Born prematurely 1989, suffered from respiratory distress syndorme. He died same year from NEC (which is not asthma).
Significant Bike Trips

1983 - Trip around lake Michigan
1985 - cycled thru Holland, Belgium, England and France (honeymoon)
1987 - West coast cycling tour (Washington & California)
1996 - Oregon Coast (this trip and subsequent as a family of four)
1997 - Alaska from Fairbanks to Seward
2001 - Another Oregon bike trip
2003 - Started current trip around the world in May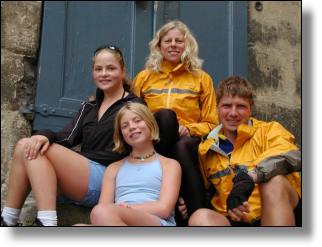 Paula and Lorenz Eber spent their honeymoon eating grapes, cheese and baguettes as they pedaled 1000 km. through Holland, Belgium, England and France. After cycling another 500 km around Lake Michigan and Lake Superiorís tree studded shorelines and a 1000 km. tour past the sea lions and whales of Washingtonís and Californiaís West coast, it was not surprising that when their daughters, Anya and Yvonne arrived a few years later, the Ebers immediately packed them into a tent and pedaled off. By the time Anya was eight months old she had already spent over two months camping and hiking--well, snoozing in Lorenzís pack--through a tour of eleven Western U.S. National Parks. And by four months of age Yvonne had already happily thrown all of her toys out of the bicycle trailer on her first overnight 60 km. cycling tour.
When Yvonne was four and Anya was six the family cycled and camped 500 kilometers down the Oregon coast, filling the bicycle trailer with pounds of sea shells, driftwood, ocean glass and coloring books. The following year they pedaled 1000 kilometers up 2000 foot mountain passes, through moose and grizzly bear tramped taiga, past dazzling glaciers from Fairbanks to Seward to Anchorage, Alaska. (You can read about their escapades in the April 2001 edition of Adventure Cyclist). Since then, they have biked through the Gulf Islands of Canada, backpacked 32 miles for ten days along the Olympic coast of Washington and most recently, backpacked 34 miles along the Rogue River. In total, the Ebers have cycled well over 10,000 miles through Europe, the U.S., Canada and Alaska; 5000 miles of which were undertaken with Anya and Yvonne.
Why bike around the world?
....it will be a great adventure
....we could cure asthma
....we love bicycling as a family
....we want to make a difference in a childís life
....we love to travel
....we want to inspire others to live their dreams
... and most of all---
because we can!
About Paula
The day after my motherís and fatherís wedding on a summery day in June of 1956, my parents sailed from England to an unknown future in western Canada. My father, who had just completed his studies in geology, had heard there was work in oil prospecting in Calgary. And so, with the undaunted courage of youth, my twenty-two year old mother and father borrowed money for the train ride across Canada and arrived in Calgary with no money, no job and no friends or relatives, to start a new family in a strange and wonderful new land. Perhaps it is not fair to place the responsibility for my wanderlust and love of travel on my parents. But as one of the 60's generation of ďoil bratsĒ, by the time I was 14 years old my two sisters, Lyn and Tina, and I had lived in 17 houses in three different countries and two continents.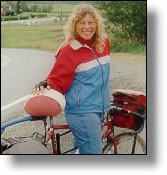 Far from being tired of my familyís wandering ways, when I left home to study at Dartmouth College I continued on with the family tradition, backpacking and living in Europe and North Africa; and studying French, Italian, German and Arabic. Ultimately my passion for other cultures led me to a Ph.D. in cultural anthropology at Northwestern University and to an footloose career as a professor and scholar: teaching, studying and writing about North Africa.
Iíd like to believe that my asthma had at least one positive impact on my life: for the many months I spent in bed as a child led me to a great love of books and writing. While my friends would run outside below my window, laughing and shouting as they played tag and sped along on their bicycles, I adventured around the globe with the Arabian Nights, Nancy Drew, and Jules Verne, unhindered by such irrelevant factors as the need to breathe. In reality, of course, I struggled daily with this very simple action that everyone else could take for granted. It was not until my teenage years, when Marax-- one of the first semi-effective asthma medications-- was developed, that I realized breathing did not have to be painful: that it was not normal to walk around feeling as if my chest were being squeezed by a giant gorilla, or that healthy childrenís lips and fingernails were bright red with oxygen instead of greyish blue from the lack of it.
As I grew up to a wonderful new era of better medications and learned to understand and respond properly to my asthma symptoms, I set aside my childhood memories of midnight runs to the emergency room and days gasping in bed--when even talking required too much oxygen--as horrible nightmares to be forgotten. I began camping and bicycling and backpacking: activities I would have considered impossible just a few years earlier. And with the birth of our incredible daughters, Anya and Yvonne, and the death of our son Jens, who battled for two months to breathe on a respirator, I began to dream--of the day when no child would ever again have to fight--simply to breathe.
About Lorenz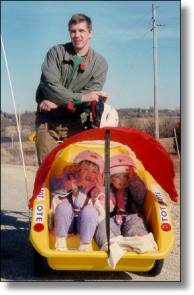 I was born in Germany in 1963 and lived there until I was seventeen. When I was six years old I watched a TV show called ďThe GlobetrottersĒ. The show was about these two cool dudes (one of them had this nifty little spy camera!!) who traveled to exotic countries all over the globe and had incredible adventures. After two episodes I was hooked and told my mom that I was going to become a globetrotter when I grew up. My mother tried to convince me that a ďglobetrotterĒ was not a real profession one could earn money with, but I knew she was wrong and would not have any of that nonsense adult talk. I had a plan. I would first become a globetrotter and then after a long long time of trotting I would, maybe, settle down and become something more conventional and respectable, like an astronaut. Looking back today, I marvel at the insight and foresight of that six-year-old. Having done a fair amount of globetrotting already, we are now on the outset of the biggest globetrotting adventure of them all. Nearly two years on bicycles though some of the most exotic counties of my dreams. And while I am not an astronaut yet, I have applied to be one and expect to expand my trotting to frontiers outside of this globe altogether soon. If you are six years old and reading this page, I advise you to be very careful of the plans you are making, since you will actually have to do them when you are thirty eight.
When I was 16 a friend and I decided that our 3-speed bicycles and the worn out backpack from my sister would make ideal gear for a bike trip across Germany, north to south. We had a splendid time until our 3-speed bikes met the Hartz Mountains. We decided that the trip would be definitely more satisfying if it was diverted to the west into flat-as-a-pancake, Holland. Besides, Holland was a foreign country with exotic charm and the lure of adventure. Ok, okÖ so it looked exactly like our northern Germany, but at least we couldnít understand a word the people were saying. Sleeping in a Dutch field between a herd of Holstein cows in our little tent was not exactly a scene from Thousand And One Nights, but I never will forget the thrill and freedom that bike touring brings! I feel that bike touring is much like flying (my other passion). You wake up at dawn, smelling the fresh morning breeze and decide on a whim which direction it shall be today, always resting assured that adventure is just around the corner. Going to work is never quite like that!
While on the road or in the air, I love to take photographs (Iíll get one of those cool spy cameras soon!). Photographing landscapes and foreign people are my forte and I am fortunate to have been publishing some of my photos in magazine articles and books.
Being an engineer I get immense pleasure of being able to fix anything with nothing. Naturally I am the official Grease Monkey of our outfit. Sit me on a rock in the Alaskan taiga; give me a broken bicycle wheel, a couple of wrenches and some wire and you have a perfectly happy and content human being (Öif engineers can ever be called that).
I cycle 10 miles to work every day and love to backpack, hike, camp, kayak, canoe, sail, ski and fly airplanes. I love to tell funny stories to children and enjoy being silly. There is nothing better then starting out telling some hilarious tale to my girls in a park, and a drove of giggling children gathering around to join in. I call that simple old fashioned fun!
Given the choice between a luxury hotel and a primitive oasis guesthouse in the Sahara, I donít think twice. I cherish the simpler more basic parts of life. My car choice says it all. I drive a moss covered 1973 Datsun Pickup with well over 300,000 miles on it. My perspective is this: A man always wants to hear comments about his car. There are basically two ways to get those. You either mortgage your house and buy a $100,000 Ferrari, or you buy a 30 year old Datsun. The stares you get are the same. Bang for the Buck you canít beat the Dutsun!

About Anya
Hey, Iím Anya Eber. Iím twelve years old and currently in seventh grade in Woodward Middle School. My favorite subject is Language Arts. I love to READ and write. Obviously you can tell by now that there is nothing I would rather do than curl up with a good book. I have three bookshelves full of books I have read at least four times each. And thatís not counting the large stack of library books that stands by my bed.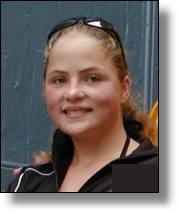 The only other thing I would rather be doing than reading is riding a horse. I love horses and have been obsessed with them ever since I can remember. For the past three summers I have lived for horse camp. Since I was eight I have worked with a ten-year-old full blooded Arabian horse named Jast. For the last two years I leased him until we had to sell him to an Arabian trainer.

Music is one of the key parts of my life. There is always music in my room. It just doesnít feel right without music. I love to sing and act which is why I constantly turn our living room into a stage, and to my Momís annoyance, litter it with props, stage sets and costumes.

I am also somewhat of a sports fanatic. I have fallen in love with so many different outdoor activities that my parents are getting a little nervous with what sports Iím going to find when I bike around the world. (Iím hoping to go bunjie jumping in New Zealand for my birthday). But for right now Iím content going swimming, diving, hiking, biking, skiing, snow boarding, snow shoeing, ice skating, and of course horseback riding.

I canít wait to bike around the world because I love adventure. And biking around the world is going to be an adventure of a lifetime!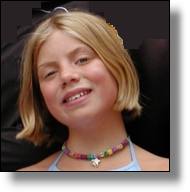 About Yvonne
Iím Yvonne and Iím ten years old. Iím in fifth grade with Miss Beemer. My favorite subject is Language Arts. I love reading funny books. Some of my favorite books are The Princess Tales, the Harry Potter series, and Sharon Creech books. I also like playing trombone in band. Itís kind of hard figuring out where the notes are because you have to keep switching positions with the slide. But I still like playing the trombone even if itís a little hard.

I have a puppy named Leo. Heís half golden retriever and half lab. His life revolves around chasing sticks and balls and swimming in the bay.

I love doing sports. I like swimming, diving, skiing, snowshoeing, biking, hiking, camping, cross-country skiing, canoeing, and tap dancing. One of my favorite trips was backpacking the Washington Coast .My favorite campsite was where the sand was white, the sea was warm, and there was even hammock that some one must have built when they were there before us.

I really want to bike around the world because I love different countries and I love to try new things. I would really like to go to my favorite country Australia. I also collect stamps and I want to get stamps from all around the world.

Updated: May 7, 2004

Thanks to our sponsors!





Our Mission: World Bike for Breath is a nonprofit corporation raising AWARENESS and MONEY for asthma.




©2004 World Bike for Breath, 12106 Heron St, Bainbridge Island, WA 98110 Tel. 206.842.6706 Email BikeForBreath@hotmail.com