The Challenge
- Home
- The story
- About asthma
- The Dream
- Asthma Programs
- About WBB
The World Tour
- The Route
- The Eber Family
- The Equipment
- Latest News
Your Pages
- Teachers
Our Sponsors
- Individual
- Corporate
Contact Us



California Shakedown
Friday December 27, 2002. Guadaloupe.
"Guadaloupe:looking forward to a better tomorrow" the sign greets us as we pedal past endless rows of broccoli fields punctuated with the bent over backs of brown skinned sun-hat-topped Mexican farm workers. At first sight the town certainly looks like it needs a better tomorrow. The crackling plaster of sun bleached walls and faded store signs announcing "Mercado" and "Teatro" and "Fine Mexican food" certainly are a far cry from the $600 night luxury beach hotels we just left 16 miles ago at Pismo Beach.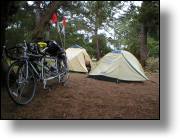 We stop in front of what apparently is the largest supermarket in town and are promptly greeted by a white haired man on a three geared bicycle (his equipped with a metal shopping basket on the handlebars–a sharp contrast to our fancy brand new Arkel panniers). "Welcome to Guadeloupe," he starts up cheerfully. He begins immediately to advise us on the many sightseeing features of the dilapidated town: a local park, the best Mexican restaurant, the nearby dunes, and even the computer education classes that he is running (closed of course today; but if we're here tomorrow we can stop in). Realizing we probably need a map to navigate the six square blocks, he pedals off to his office to get us one. Note: You can click on the photo for a much larger version (100K in size -- might be slow if you are on a dial-up modem)
Meanwhile we pop into the store to stock up for lunch, selecting tortillas (of course) a jar of salsa, two hot chorizo sausages, a jar of coconut juice (with the pieces) and a treat on a stick for Yvonne that holds the title 'Mama Pedro' (it turns out to be a chocolate covered marshmallow confection on a large lollipop stick). The friendly grocer also seems in no hurry as he chats to us about our route and adventures so far and throws in a couple of candies for the girls as a welcome gift. As we pedal off I wonder if perhaps Guadeloupe is better off enjoying today rather than hurrying after tomorrow after all.
Sunday December 29, 2002. Lompoc.
11:30 a.m. and we are still trying unsuccessfully to pack up our tents after a monstrous storm has slammed us for the past 20 hours. The day before we had pedaled over the twisty narrow 1000 foot Harris Grade pass into Lompoc with 50 mile headwinds (not helped by the fact that Paula forgot to turn off her drum brake–so she and Anya had the brake on for the last six miles) . On our arrival into River Park campground we were greeted by a reporter from the Lompoc Record who bravely sat interviewing us under an umbrella–her notes getting soaked by the slashing rain–as we desperately threw up our new REI tents.
The entire morning long the rain keeps pausing every half hour to give us enough time to creep out, begin undoing the bicycles, fire up the burner to heat up some hot chocolate, and then get totally soaked again. By 1:00 everyone is in a horrendous mood but the tents are down. It doesn't look hopeful that we'll make the next 25 miles over a second 1000 foot mountain pass into Gaviota before sunset at 4:45 (our speed on the hills carrying 100 pounds of gear and kids averaging 5-6 miles an hour). So we decide to visit the "La Purissima Mission" and spend a dry night in a hotel in downtown Lompoc.
La Purissima is one of 21 beautiful ancient Spanish/Mexican missions lining the California coast. Built in the late 1700s (and restored by the park service) it sits on a hilltop with pink and white washed adobe walls overlooking a valley of huge gnarled live oak trees and velvety green grass. Yvonne is horrified to find that one of the mission's priests is on the way to sainthood and canonization in the Catholic church; so although his body is buried under the floor his knuckles have been saved elsewhere in a reliquary (for worshipers to view). Anya finds the olives on the trees to be inedible but perfect for an olive oil skin massage and peers over the oil press with soft supple brown fingers. We peer into an adobe oven, wander through the herb garden, observe a blanket being made on a loom and step into some Chumash Indian huts before cycling into downtown Lompoc.
In front of the Vagabond hotel stands a self serve newspaper box proudly displaying the Eber family on the front page of the Lompoc Register. Better yet, as Lorenz steps into the lobby the girl at the front desk exclaims, "I was just reading about you in the newspaper!" and gives us a special discount rate because we're biking for a good cause.
Monday December 30, 2002. El Capitain State Park.
Police cars, floods and emergency evacuations in the night! Anya and Yvonne think this ride is a great adventure! The sand and mud filled campground at Gaviota State park–the result of flooding from last night's storm–was closed. And as we pedaled another ten miles along the noisy busy four laned 101 highway to Refugio State Beach we were thankful that we did not try to push ahead from Lompoc the day before. Refugio was a dream come true-- a palm tree paradise along the beach with little cabanas and surfing dudes bobbing on the waves,-- with one minor problem: it too was closed. However as the beautiful crimson sunset on the water warned us, we were out of daylight. And so, desperately, we threw up our tents anyway while Anya, who is becoming quite the little Mexican cook began making us quesadillas (melted cheese on tortillas).
In the middle of a warm cheesy dinner in the dark we are greeted by a police car. And so after piling tents, bags, panniers, cookware and clothes into the back of the police pick-up truck, Anya and Yvonne get an escorted ride to the next campground, El Capitain, while Lorenz and I pedal the tandems (sans partners) in the dark another two miles and set up camp again under the helpful lights of our police escort.
Wednesday January 1, 2003. Carpenteria.
Our last night was spent drinking champagne, and eating oysters, brie, chocolate and Moroccan sweets around a hot blazing fire in Carpenteria campground thanks to the generosity of Iliane and Rick White. The Whites had heard about our world ride from an article in the Ventura County Star and wanted to pedal with us for a few miles. They also brought a basket full of wonderful goodies, firewood,, stories from Iliane's childhood in Morocco, their son Kyle who entertained Anya and Yvonne by showing them movies in their van, and a donation for World Bike for Breath. And so as we head back from our first seven days and 163 miles on the California coast we are left with the warm memories of the kindness and generosity of the people who are, after all, the most important reason for pedaling around the world
The Eber Family
Updated: Jan 6, 2003
Thanks to our sponsors!


Our Mission: World Bike for Breath is a nonprofit corporation raising AWARENESS and MONEY for asthma.
©2004 World Bike for Breath, 12106 Heron St, Bainbridge Island, WA 98110 Tel. 206.842.6706 Email BikeForBreath@hotmail.com