The Challenge
- Home
- The story
- About asthma
- The Dream
- Asthma Programs
- About WBB
The World Tour
- The Route
- The Eber Family
- The Equipment
- Latest News
Your Pages
- Teachers
Our Sponsors
- Individual
- Corporate
Contact Us



Outerwear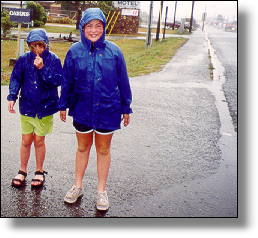 Outerwear ranks as some of the most critical survival gear on any cycling tour, second only to one's bicycle. If you do not have excellent rain gear, and warm dry clothing, the tour will be quickly ruined, if not downright dangerous, during the first serious downpour or frost. However, while keeping the rain and cold out is essential to survival, clothing that will not breathe is equally problematic. Paula and Lorenz have, unfortunately experienced many sorry days of sweating to death inside their rain gear.

We are taking four 'Lightning' rain jackets and pants, which were donated by Patagonia. The jackets and pants pack down to an amazingly small size, are light weight, and have kept us dry through some serious downpours in Greece, Germany and England. Thanks Patagonia!

Almost as important as rain gear are shoes. While racing cyclists hoping to increase their speed and endurance are firmly committed to the shoe cleat system, we find that cycle touring--particularly in less developed areas--is better adapted for mountain bike shoes. Rugged, appropriate for hiking, camping and hard biking conditions, mountain bike shoes can be worn on and off the bicycle, and can take the beating of a 15,000 mile trip. For those times when we need a change of pace in camp or on days off, we will be bringing along lightweight waterproof sandals.
Mountain bike/hiking boots for each of us
Lightweight waterproof sandals (great for camp, swimming in unknown waters and collecting water from streams, as well as a day off in town)
4 waterproof, breathable packable raincoats with pit zips
4 waterproof, breathable packable rain pants with side zips for easy on-off dressing
4 lightweight compact sunhats
4 warm (wool) hats
4 pairs of cycling gloves
4 pairs of warm (wool) gloves (we are currently evaluating various glove options: removable fingers, liners, etc that will cut down on bulk and weight, but not warmth)
4 pairs of sunglasses
Updated: Aug 16, 2003
Thanks to our sponsors!


Our Mission: World Bike for Breath is a nonprofit corporation raising AWARENESS and MONEY for asthma.
©2004 World Bike for Breath, 12106 Heron St, Bainbridge Island, WA 98110 Tel. 206.842.6706 Email BikeForBreath@hotmail.com