The Challenge
- Home
- The story
- About asthma
- The Dream
- Asthma Programs
- About WBB
The World Tour
- The Route
- The Eber Family
- The Equipment
- Latest News
Your Pages
- Teachers
Our Sponsors
- Individual
- Corporate
Contact Us



Teachers
Teachers and schools
Are you looking for a fun way to teach map reading skills?
Have you ever thought there must be a better way to interest kids in American history?
Do you wish your students could locate Mongolia on the map?
Ever wondered what a child understands about air pollution in Poland?
Do you dream of the day when students will come rushing in to class with newspaper and Internet articles about the latest events in Italy?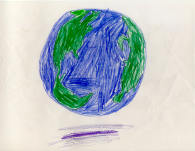 World bike for breath is an unprecedented exciting and innovative way to bring geography and history alive in the classroom! This amazing bicycle ride around the world by a family with two daughters gives you live, on-the-spot, views of 25 countries in 5 continents and 8 world regions from the perspective of a child! Prior to and during the 16 months of the Eber family's world tour, teachers and schools will receive special newsletters and access to teacher web site pages specifically designed for the classroom. Your students can follow Anya and Yvonne as they pedal through the South Pacific, Australia, Asia, Eastern and Western Europe, the Middle East, Africa, and North America. Read their stories, view photos of the places they have traveled and send e-mail questions to the girls!
An incredible new resource for teachers and students alike, this service is available to all schools for free! All that we ask is that you register and consider a donation to the World Bike for Breath fund--whose goal is to cure asthma and make the world a better place to breathe for all children.
Click on the lnks below for individual essays by the Anya and Yvonne Eber:

February 2, 2004 - Chinese Cuisine, by Anya Eber
February 2, 2004 - Riding An Elephant, by Yvonne Eber
December 11, 2003 - Persimmons, by Yvonne Eber
December 11, 2003 - Where To Sit in a Russian Van, by Anya Eber
November 5, 2003 Cherishing Little Comforts, By Yvonne
Shades of Gray, By Anya
September 18, 2003 Note From Yvonne
September 18, 2003 Schloss Neu Schwanstein in Germany, by Anya Eber
August 22, 2003 -- SCHOOL ON A BIKE
August 15, 2003 Washington State History Essay, by Anya Eber
July 8, 2003 Yvonne sent her latest essay.
May 29, 2003 Yvonne's latest essay
May 14 Update From Anya and Yvonne - Rodos, Greece

To receive a brochure describing World Bike for Breath click here.
To register or make a donation to World Bike for Breath click here.
Teacher's guide
World bike for Breath offers fun, stimulating, supplementary geography and history materials for grades K-8. The program consists of a frequently updated web site designed by Dr. Paula Holmes-Eber, from the Department of Anthropology and Middle East Studies at the University of Washington. Teachers who register for World Bike for Breath will also receive a monthly newsletter filled with exciting stories, photos and activities devoted to the countries the Eber family will be cycling through. (Prior to January 2003, when the ride begins, teachers and classrooms will receive newsletters every 2-3 months).

The program is free of charge to all public and private elementary and middle schools and teachers, although donations to the World Bike for Breath fund are greatly appreciated. All proceeds from this non-profit fund will go directly to asthma research and programs for asthmatic children and their families. To register for the newsletters simply click below and follow the menu, or if you prefer, click below for a brochure and mail it in. If you do not care to make a donation at this time, simply write in 0 for the dollar amount on the form.

Want to get started now? Click any topic below:

World Bike Route
About Anya
About Yvonne
Toys on a bike
School on a bike
School on a bike
Instead of going to school every day, Anya and Yvonne are going to be on a bicycle for the next year and a half! Does that mean they get out of math and P.E.? Well, not really! They will just be learning in a different way.

As the pioneers moved in covered wagons across the U.S., they taught their children to read and write and do math around the campfire. On the way, their parents also taught them many other essential skills such as hunting, fishing, cooking and sewing. Eight year old Yvonne and eleven year old Anya will be learning very much like these pioneer children of long ago. But there will be one enormous difference. Unlike the pioneers, Anya and Yvonne live in the computer age. And each time they arrive at a major city they will be downloading their homework assignments from a computer at an Internet cafe!!.

We are putting all of their class work onto the computer. As our family arrives in a new city with an Internet cafe, we will print out the pages that they will study along the next few hundred miles. Then we'll throw away pages as they finish them, so that we never have to carry too much weight. Yvonne and Anya's Dad is a engineer. So he will be their math and science teacher. Their Mom is a professor of anthropology. (Anthropologists study the peoples and cultures of other countries). As a professor, she has lots of experience reading and writing. So she will teach the girls Language Arts and Geography.

Of course a lot of what they learn will come naturally on the route. Anya and Yvonne will read guidebooks and tales of the countries they travel through. They will visit very ancient places such as the Great Wall of China, and appreciate history by being there. They will have to be able to read maps in order to understand where they are going. And while most children study about different countries by reading books, they will especially appreciate how people live around the world by eating their food, visiting their homes, and joining in their celebrations. And think of all the languages they will be able to say hello and thank-you in when they return!

The girls will have plenty of math practice by calculating the distances they have traveled and figuring out how much a Russian ruble is worth in American dollars. They will learn about nature by watching real live kangaroos and penguins in their natural habitats. And they will have very practical lessons in geology (how the earth is made) and P.E. by cycling over the glacier covered mountains of Austria, hiking up the volcanoes of Japan, and swimming in the coral reefs of Australia.

Perhaps most exciting for everybody will be Yvonne and Anya's Language Arts lessons. For homework the girls will write and draw pictures about the countries they have visited and their adventures there. When we get to an Internet cafe we will e-mail you their stories and pictures in newsletters. You will get to hear about what they think of bargaining in the markets of Turkey, sleeping in a yurt in Mongolia, climbing the Eiffel tower in France, and walking the Freedom Trail in Boston. It's going to be a wonderful adventure, and we're excited to have you along!!!!

Last Updated: May 8, 2004

Thanks to our sponsors!





Our Mission: World Bike for Breath is a nonprofit corporation raising AWARENESS and MONEY for asthma.




©2004 World Bike for Breath, 12106 Heron St, Bainbridge Island, WA 98110 Tel. 206.842.6706 Email BikeForBreath@hotmail.com